Describe my favorite pair of shoes??
Ever? Now?
I love a good pair of shoes. I used to own tons and I will admit that my floor is littered with too many I never wear anymore.
Shoes that have played a significant role in my life include:
my clogs when I was 3 or 4
I wrote about these before here.
Then there was a pair of shoes that looked like these:
I had a pair of these when I was 8, it was the 70's. I don't think they were quite this high of a platform, but they were platforms, I was walking in them, on our wood floors, towards our library when I slipped and fell on one of those gigantic speakers. The edge of the speaker almost sliced off most of my ear lobe. What was striking from that event was how pretty my red blood looked on my bright yellow-orange turtle-neck sweater. I could never bring myself to wear those shoes again!
In high-school I would buy so many shoes, usually vintage and my most favorite pair were these blue suede pumps that looked somewhat like this;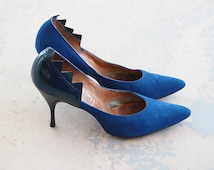 I still have them!
Currently I don't have any favorite shoes, really. I have moved from the pretty and uncomfortable to the plain and comfortable. It is like some right of passage… and a burdensome one that I am not happy about. I sure wish I could wear pretty shoes, but it just is not worth it!